First Aid Only 520-FR 158-Pc. First Responder Kit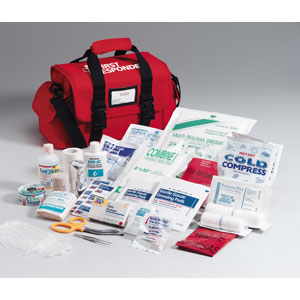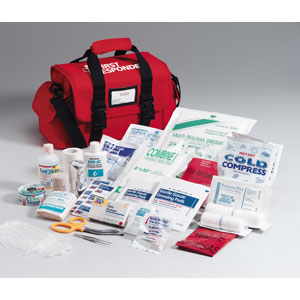 Manufacturer:
First Aid Only
Product Details:
During a medical emergency, time is a luxury that first responders can't afford. That's why these portable kits contain a comprehensive array of carefully chosen products to deal with the common emergencies these professionals face, like administering CPR, mitigating burns and cleaning bodily fluids to name a few. Each kit easily accommodates additional trauma kit supplies, as well. Contents subject to change without notice.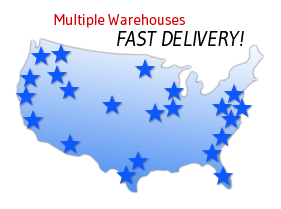 Product Specifications:
Model Number: 520FR
UOM: EA
Dimensions: 16" X 8.75" X 7.5"
Properties:
Our comprehensive responder kit contains the essential first aid supplies you need in a medical emergency
This 100 denier cordura semi-rigid bag with handle, shoulder strap, side pockets, main compartment has removable divider & pocket, lid has zippered pouch, buckle closure, business card holder includes CPR devices, dressings, bandages, tapes, biohazard bags, gloves and more
Plus, there's still room for your own personal medical supplies
Kit Includes:
(3) 1" X 3" Fabric bandages, 16/bx
(6) 3" X 3" Gauze dressing pads, (3) 2-packs
(20) 4" X 4" Gauze dressing pads, (10) 2-packs
(3) 5" X 9" Trauma pads
(2) 8" X 10" Trauma pads
(1) 12" X 30" Multi-trauma dressing
(2) Super Stop™ bandages
(2) 4" Conforming gauze roll bandages
(1) 6" Conforming gauze roll bandage
(4) 36" Triangular sling/bandage, w/2 safety pins
(24) Alcohol cleansing pads
(12) Povidone-iodine infection control wipes
(2) 3" X 5 yd. Latex free elastic bandages
(1) 1" X 10 yd. Waterproof tape, plastic spool
(1) 3" X 10 yd. Porous cloth athletic tape roll
(1) 4" X 5" Instant cold compress
(2) 6" X 9" Instant cold compresses
(1) Water-Jel® Burn Jel™ burn relief, 4 oz plastic squeeze bottle
(4) Sterile eye pads
(1) Eye wash, 4 oz
(1) Eye wash, 8 oz
(1) 24" X 24" Biohazard bag, 10 gallon capacity
(4) 10" X 12" Ziplock bags
(2) CPR one-way valve faceshields, latex free
(1) 52" X 84" Emergency blanket
(8) Exam quality vinyl gloves, 4 pairs
(1) 7.25" Utility shears
(1) 3.5" Deluxe tweezers, stainless steel
(1) First aid guide