Industrial Equipment & Supplies for Sale - No Tax ID or Account Obligations
APES- Affordable Prices and Exceptional Service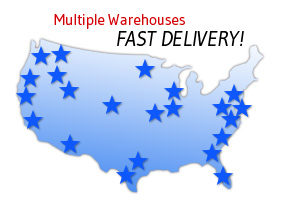 Welcome to American Parts Equipment Supply, Inc., the most comprehensive distributor of industrial equipment supplies in the Midwest. We offer products for every individual and company, with some of the best customer service in the industry. APES is the number one choice for contractors, engineers, and purchasing agents in every industry imaginable, including hospitality, food service, maintenance, construction, landscaping, and more. APES is a place where you can literally buy any industrial equipment supplies for the workplace, even your garage, home, or office.
American Parts Equipment Supply provides countless individuals and corporations with over 900 different brands of various industrial equipment and supplies. At Goapesonline.com you can guarantee you'll find only the best brands and products from manufacturers including Ingersoll Rand, Kimberly-Clark Professional, Rubbermaid, Total Solutions Chemicals, First Aid Only, and Green Mountain Grills. You are sure to find the equipment, tools, and supplies you need at prices you can afford, without buying in bulk.
APES fulfills equipment and supply needs for applications in hospitals, offices, hotels, automotive repair shops, construction sites, restaurants, and much more. American Parts Equipment Supply is THE place to find all of your industrial equipment supplies.
APES makes purchasing industrial equipment supplies pain free and simple. Most industrial supply companies only sell business to business, requiring tax ID's and/or accounts. Unlike other industrial supply companies limited by their comfort zone, American Parts Equipment Supply sells to businesses as well as the general public, eliminating the requirement for tax ID's and accounts.
Exceeding Customer Expectations at Every Turn
American Parts Equipment Supply provides our services for the bare minimum cost that allows us to continually grow and better serve our customers. Our low prices and outstanding customer service helps our customers to continually move forward, achieving profitability and lasting success.
APES specializes in complete customer satisfaction, providing the best customer service in the industry, evidenced by the patronage of our returning customers. As an APES customer, you're a member of the APES family. Whether you spend $250,000 or $50, each customer will always experience the same superior customer service every time.
Browse our website today and you're sure to find all the industrial equipment supplies you need. Can't find something you're looking for? Let us know and we'll track it down and provide it at a better price with better service. We look forward to welcoming you to the APES family!
Contact the Industrial Equipment Supplies Providers at APES for products meeting your supply needs and budget restraints.