First Aid Only 248-O/FAO 4-Shelf, 150-Person, 1,059-Pc. Station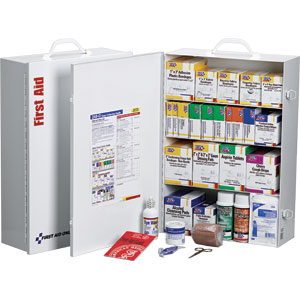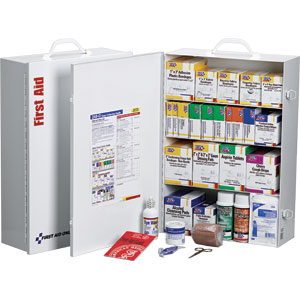 Manufacturer:
First Aid Only
Product Details:
These First Aid Stations are specifically designed to provide the most complete first aid protection available in each size. The balanced assortment of supplies will handle most of their first aid needs. Each metal cabinet is dust-proof and wall-mountable. Meets or exceeds OSHA guidelines and ANSI Z308.1-2003 Standards. Contents subject to change without notice.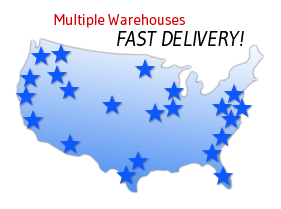 Product Specifications:
Model Number: 248OFAO
UOM: EA
Dimensions: 15" x 22.375" x 5.625"
Properties:
4 Shelf metal cabinet, 1,059-piece industrial first aid station
Meets and exceeds OSHA recommendations for businesses, offices and work sites
Serves up to 150 people
The swing-out door and easy-to-carry handle add extra convenience
Kit Includes:
(1) 1" X 3" Adhesive plastic bandages, 250/bx
(1) 1" X 3" Fabric bandages, 50/bx
(1) Knuckle fabric bandages, 40/bx
(1) Fingertip fabric bandages, 40/bx
(1) 3" X 4" Non-stick pads, 50/bx
(1) 24 - 2" X 2", 24 - 3" X 3" Gauze dressing pads, 48/bx
(1) 32 sq. in. Absorbent gauze compress, 1/bx
(1) Super Stop bandage
(1) 2" Conforming gauze roll bandages, 10/bx
(1) 36" Triangular sling/bandage, w/2 safety pins, 1/bx
(1) 40" Triangular sling/bandage, w/2 safety pins, 1/bx
(1) Aspirin tablets, (125) 2-pks
(1) Cherry cough drops, 100/bx
(1) Alcohol cleansing pads, 100/bx
(1) Antiseptic cleansing wipes (sting free), 18/bx
(1) Antiseptic spray, 3 oz
(1) Triple antibiotic ointment packs, 25/bx
(1) Povidone-iodine infection control wipes, 50/bx
(1) 3" X 5 yd. Cohesive elastic bandage wrap, latex free
(1) 2" X 5 yd. 3-Cut First Aid tape
(2) 4" X 5" Instant cold compresses, 1/bx
(1) Burn spray, 3 oz
(1) 2 Sterile eye pads, 1 oz eye wash, .5" X 5 yd. first aid tape roll, 1/bx
(1) Eye wash, 4 oz
(1) CPR Pack: 1 CPR one-way valve faceshield, 2 exam quality vinyl gloves, and 3 antiseptic cleansing wipes
(1) Exam quality vinyl gloves, 2 pair/bx
(1) 4.5" Scissors, nickel plated
(1) 4" Tweezers, plastic
(1) 40 pg. First aid guide