Kidde 21006377 Carbon Monoxide/Smoke Combo Alarm (AC/DC) Interconnectable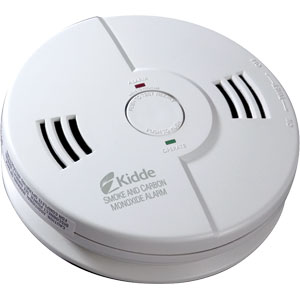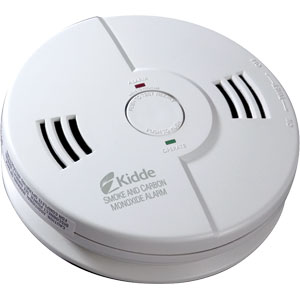 Product Details:
Carbon Monoxide/Smoke Combo Alarms provide two important safety devices in a single unit. These alarms include a voice warning system that announces "Fire, Carbon Monoxide, Low Battery or Smart Hush™ activation." These technically advanced combination alarms use ionization sensors to detect fire. They are easy to install, suitable for all living areas and have a five-year limited warranty.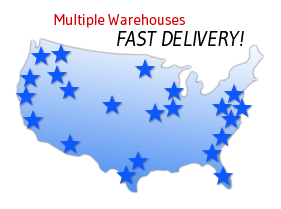 Product Specifications:
Model Number: KN-COSM-IB
UOM: EA
Case Pack: 6
Technical Data:
Power Source: 120VAC, 60Hz 25mA max per alarm; 9V battery backup
Sensor: Electrochemical
Audio Alarm: 85dB at 10 ft.
Temperature Range: 40°F to 100°F
Humidity Range: 5%-95% relative humidity
Size: 5.75" Diameter x 1.7" Depth
Weight: 1 lbs
Interconnect: Up to 24 Kidde devices (of which 18 can be initiating)
LED: Green, receiving ac power; Red, alarm mode
Digital Display: No
Warranty: 5 year limited
Properties:
Replaces 9000114E