Actron CP9449 ABS BrakeScan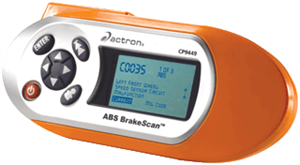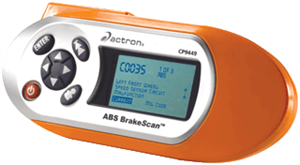 Product Details:
Introducing the Actron ABS BrakeScan, an innovative and affordable solution to brake repairs.
Born from the most requested functionality, this tool delivers easy-to-use technology at a price unmatched in the industry. This market breakthrough product was developed by the same diagnostic experts that designed the first retail code reader and DIY scan tool. Actron°s ABS BrakeScan delivers a quality product that allows DIYers and technicians alike an inexpensive alternative for diagnosing brake problems.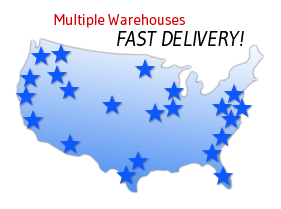 Product Specifications:
Main Features:
* Understand why the Brake Warning Light (ABS) is on
* Displays ABS trouble codes and definitions
* Coverage for OBDII domestic vehicles 1996 and newer (GM, Ford & Chrysler) - See ABS Coverage Chart below
* Plugs into OBDII Port
Systems Diagnosed:
* Wheel Speed Sensors
* ABS Solenoids
* The Brake Control Module
* Vehicle Speed Sensors
* ABS Pump Motor
* Brake Switch
* And more ...
Software Features:
* Reads and displays ABS trouble codes and the definitions
* Updateable online
* ABS code Library feature on tool
* Retains most recent vehicle scan
* Help Screens
Hardware Features:
* Easy to read backlit display
* Optional Battery Power for saving data (battery power not required to use tool)
* Detachable cable
* Storage Case
* Made in China
Kit Includes everything you need
* CP9449 handset
* OBD II cable
* Durable, soft carrying case
* Quick Start manual