IPA Tools 7900AP Mobile Universal Trailer Tester (MUTT), Lights/Air Brakes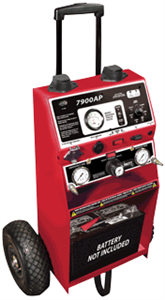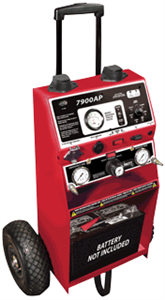 Product Details:
A Professional Solution for Fleet Maintenance.
One Man Testing with a Wireless Remote! Take the guesswork out of trailer inspections. Mobile Universal Trailer Testers are a diagnostic tool that tells you the condition of your trailer in less than 60 seconds. By utilizing a 12 volt car battery, a technician can now wheel out the tester to the trailer and power up all its lighting systems while diagnosing electrical problems. RF remote control allows complete testing from over 100 feet away. A technician is free to walk around any size trailer while in full control of the testing sequence.
ELECTRICAL TESTING
* Indicator Lights: Auto-Cycle, Power Pulse, Cross, Open, Overloaded and Shorted Circuits
* Use with 4/5, 6, 7 Spade and 7 Round Pin Connectors
* On-Board Cable Tester
AIR BRAKE TESTING
* Pulse Air to check Brake Operation with Remote
* Perform Leak Down Test on Service & Emergency Lines
* Observe Slacker Adjustment real time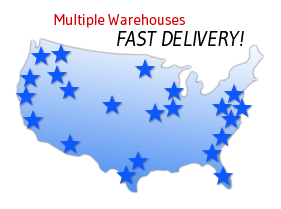 Product Specifications:
* Innovative adapters allow testing to be performed on any trailer in service in the USA.
* Uni-body Cart design on pneumatic tires with battery compartment and separate storage area.
* Wireless remote allows a tech to power circuits up to 100 ft from Tester. Includes detachable 5 ft 7-way Round pin cable.
* Ground Integrity Indicator takes the guess work out of diagnostics.
10 ft chassis ground cable allows testing of trailers solely grounded by the hitch.
* Manual mode select and Auto Cycle Feature which continuously powers up and switches to EACH circuit for 5 seconds to cut time with trailer inspection.
* Crossed circuit indication warns operator of the unselected circuit being powered by the selected circuit.
* Fused circuit and reverse polarity protection with warning prevents damage to unit.
Power the trailer by using an automotive battery (not included).
* Capable of handling loads up to 20 amps or as low as .1 amp (LED Systems).
* Battery Integrity indicator warns of low battery supply voltage.
* Open Circuit Indicator.
* Backlit amp meter reads up to 30 amps.
* Overload Protection.
* Made in the USA.