Yamaha EF4500ISE 4500 Watt Inverter Generator w/ Electric Start, EF4500iSE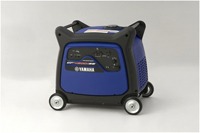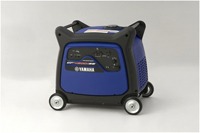 $3,199.99
Please Call for Availability
Product Details:
The EF4500iSE is designed for maximum fuel efficiency and minimum noise, features which make it the ultimate RV generator.
* 4500 watt maximum output, 4000 watt rated continuous output - Suitable for running an RV 15,000 btu air conditioner and 1000 watt microwave oven, or two other major RV appliances simultaneously.
* Meets CARB emission regulations in all 50 States
* Quiet Operation
* Up to 15.2 hours running time
* Pulse Width Modulation Inverter System (PWM) - provide power for computers, televisions, satellite TV systems and other sensitive electronic equipment and appliances.
* Electric Start
* Automatic Choke - Easy starting even in cold climates.
* Low Oil Warning System - Shuts the engine off to protect the engine if the oil level drops.
* Power Meter - Easy to read meter indicates the amount of power being used and the amount that's available.
* Hour Meter - Displays the amount of running time accumulated to indicate servicing or refueling interval.
* Twin Bar - For lifting and easy transport. Also utilize for anti-theft and additional security.
* Gas gauge
* Four wheels with parking brake for easy transport and security
* Optional wireless remote control - Start and stop the generator from up to 66 feet away!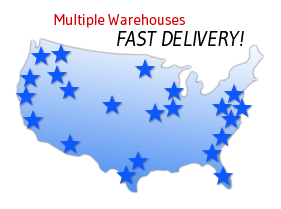 Product Specifications:
Specifications:
* Maximum AC Output: 4500 watts
* Rated AC Output: 4000 watts
* Rated / Maximum AC Current: 37.5/33.3 amps@ 120V
* Engine: OHV, Air-Cooled, Four-Stroke, Single Cylinder
* Displacement: 357cc
* Overall Length: 30.7 in
* Overall Width: 24.3 in
* Overall Height: 27.2 in
* Dry Weight: 194 lb
* Fuel Tank Capacity: 4.5 gal
* Continuous Operation at 1/4 Rated Load: 15.2 hr
* Noise Level: 58-60 dBA
* Warranty: 3 Years Limited Warranty