Paragon 6150100 Little Snowie Ice Shaver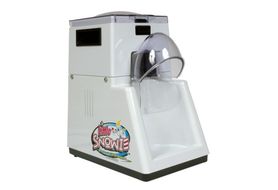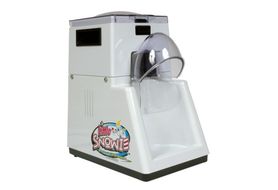 Manufacturer:
Paragon International, Inc.
Product Details:
Take the Little Snowie Shaved Ice Machine to your next special event, fund raiser, or even use it at a child's party (a big treat).
Using the Little Snowie Ice Shaver is not only entertaining, but safe and easy. This cube ice shaver comes with a heavy duty commercial motor, insuring years of maintenance-free performance, and it's priced so you can afford one for your home.
Shown with optional counter drip tray/work station.
Please note that while this is a high quality shaved ice machine, the Little Snowie Ice Shaver is designed to serve approximately 30 to 50 people a day. The Little Snowie is not a commercial shaved ice machine and is not designed to be used on a heavy-duty daily basis. To serve larger numbers of people please consider our larger commercial machines. The Little Snowie Shaved Ice Machine comes with a one year warranty that covers only residential use. The warranty is voided by the manufacturer if the ice shaver is used for commercial purposes.
Little Snowie Shaved Ice Specifications:
* Dimensions 7 1/2"W x 11 1/2"D x 12 1/2"H
* Shaves Cube Ice only
* Electrical 115V 9 Amps 1035 Watts Weight 20 lbs.
* Imported Model
* Weight: 22.00 pounds
* Dimensions: 17"w x 10"d x 16"h