Georgia Pacific 29215 Brawny™ Medium All Purpose Airlaid 1/4 Fold Wipers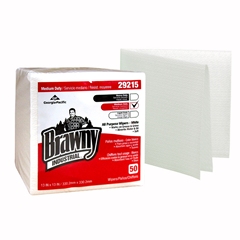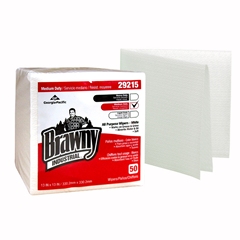 Manufacturer:
Georgia Pacific
Product Details:
* Brawny Industrial medium duty all purpose are made from airlaid bonded cellulose to deliver an exceptional cloth replacement with high capacity for tackling light-duty oil and grease clean-up tasks. This wet wiper stands up in well in medium solvents to make cleaning a breeze.
* Soft 1-ply airlaid paper makes this a popular choice for patient care (washcloths) and retail grocery store cleaning tasks. These single-ply wipers feature a 1/4-fold design that provides fast dispensing for one or more wipers at a time and come in our popular, space-saving, moisture-resistant poly packaging.
* 13" x 13" Wipers
* 50 Wipers/Package
* 16 Packages/Case (800 Wipers)