Georgia Pacific 20070/03 Brawny™ Premium All Purpose DRC Wipers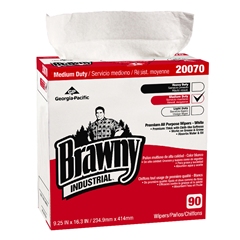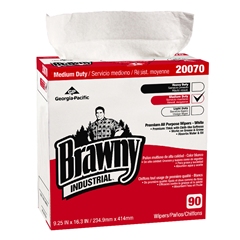 Manufacturer:
Georgia Pacific
Product Details:
* Brawny Industrial premium white, all purpose double recrepe (DRC) wipers are engineered to offer excellent bulk, softness and absorption capacity.
* DRC is the material of choice for most "medium duty" applications and ideal for use to clean up both water-based and oil-based products while being versatile enough to be used for personal use. These cost-effective wipers come in a convenient, portable tall dispenser box for added protection and quick and easy one-at-a-time dispensing.
* 9.25" x 16.3" Wipers
* 90 Wipers/Box
* 10 Boxes/Case (900 Wipers)