Georgia Pacific 29290/03 Brawny™ All Purpose Airlaid 1/4 Fold Wipers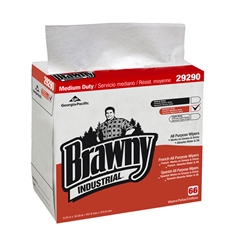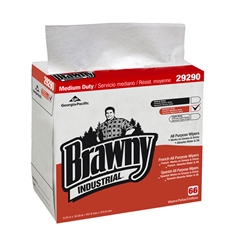 Manufacturer:
Georgia Pacific
Product Details:
* Brawny Industrial medium duty all purpose wipers are made from airlaid bonded cellulose to deliver an exceptional cloth replacement with high capacity for tackling oil-based and grease clean-up tasks. This wiper material is a better wet wiper than DRC substrates and equal to DRC in wiping oil and grease.
* Soft airlaid paper with good bulk also makes this a popular choice for patient care (washcloths) in addition to machine and maintenance wiping tasks. These wipers come in a convenient, portable dispenser box for added protection and quick and easy dispensing.
* 9.25" x 16.5" Wipers
* 66 Wipers/Box
* 10 Boxes/Case ( 660 Wipers)