Yamaha EF2400ISHC Inverter Generator, EF2400iSHC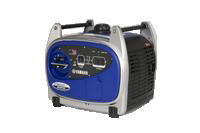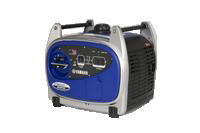 Product Details:

* High Current Surge Output - great for starting 13,500 btu RV air conditioners
* Meets CARB emission regulations in all 50 states
* Smart Throttle™L improves fuel economy and reduces noise
* Comfortable grip handles - Easy portability and storage
* Fuel gauge
* OilWatch warning system
* Electrical overload breaker
* Die-cast aluminum frame - Light weight, high strength
* Inverter system with Pulse Width Modulation (PWM) - run products with built-in microcomputers or microcomputer-controlled electric tools.
* DC outlet - 8A, 12V outlet for charging batteries (cables included).
* Noise Block™L sound reduction system - Very quiet operation.
Click Here to view Additional Yamaha Generators

Additional Equipment and Supplies - Click Here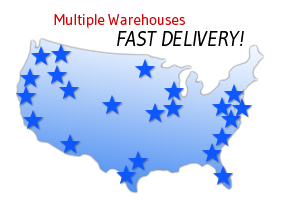 Product Specifications:
Specifications:
* Maximum AC Output: 2400 watts
* Rated AC Output: 2000 watts
* Rated / Maximum AC Current: 16.7 / 20 amps @ 120V
* Engine: OHV, Air-Cooled, Four-Stroke, Single Cylinder
* Displacement: 171cc
* Overall Length: 20.8 in
* Overall Width: 16.5 in
* Overall Height: 18.2 in
* Weight: 75 lb
* Tank Capacity: 1.6 gal
* Continuous Operation at 1/4 Rated Load: 8.6 hr
* Noise Level: 53 - 58 dBA
* Warranty: 3 Years Limited Warranty